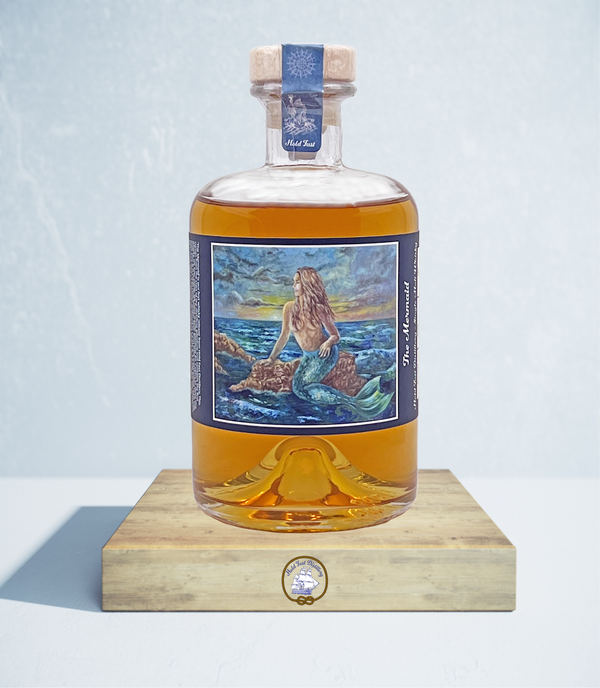 'The Mermaid' stands as a testament to our inaugural foray into the world of distillation, marking the maiden release of our whisky. This exceptional creation embodies the essence of softness, lightness, and floral elegance.
To craft this whisky, we began with the finest Malted Barley sourced from Voyager Malt in New South Wales. Every step of the process was meticulously carried out by hand, from mashing the barley to distillation.
The whisky then embarked on its maturation journey, resting in a combination of casks that included one 25-liter and five 50-liter French Oak barrels. These barrels had previously cradled Red wine from the renowned Napa Valley in the United States. After their Napa Valley sojourn, these barrels underwent a meticulous transformation. They were carefully scraped, re-coppered, and re-charred, with the addition of virgin American oak ends. This intricate process imparted a unique character to the whisky, infusing it with smooth caramel notes and nuanced flavors.
'The Mermaid' whisky is a true embodiment of craftsmanship and dedication, representing the inception of our distilling adventures. With its soft, light, and floral profile, it promises a remarkable journey of taste and refinement, setting the stage for an exciting whisky experience like no other.
| | |
| --- | --- |
|  Distilled | Aug 2019 |
| Bottled | Aug 2022 |
| ABV | 48.0% |
| Bottles | 637 |
| Size | 500ml |
Colour: Burnished Gold
Nose: The nose is a captivating bouquet of vanilla, honey, and biscuits that awakens the senses and beckons you closer.
Palate: On the palate, the journey begins with burnt caramel notes, setting the stage for a rich and indulgent experience. These caramel notes are gracefully complemented by hints of honey, white pepper, and a subtle undertone of hay, creating a harmonious tapestry of flavors that dance across your taste buds.
Finish: The whisky's finale is marked by a sweet and satisfying medium finish, with a gentle crescendo of warming spices that leave a lasting impression, inviting you to savor every moment of this remarkable journey.
The captivating artwork adorning 'The Mermaid' label holds a deep significance for us, drawing inspiration from our maritime roots and adding an aura of mystery to this special whisky.
Our connection to the sea as mariners influenced the choice of 'The Mermaid' as a symbol, an enchanting figure shrouded in tales of the deep. This whisky is a treasure waiting to be discovered, much like the mysteries that the sea holds.
We are incredibly fortunate to have collaborated with the immensely talented artist Ieva Guogyte, who brought this vision to life. Her artistic prowess shines through in every brushstroke, capturing the allure of 'The Mermaid' in exquisite detail. You can now admire this remarkable piece of art on display at the Braidwood Hotel, where it adds a touch of enchantment to its surroundings.
'The Mermaid' whisky is not only a testament to our distilling journey but also a work of art that tells a story of maritime wonder and intrigue. It invites you to embark on a sensory voyage, where the spirit of the sea and the artistry of 'The Mermaid' converge to create a truly exceptional experience.