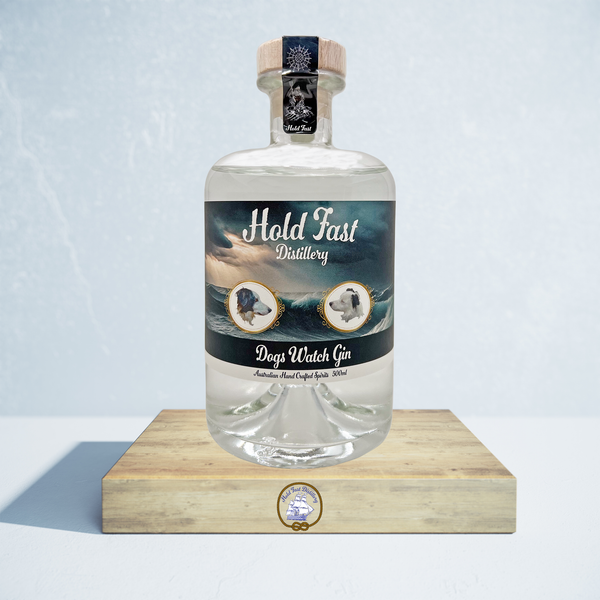 Introducing the Dog's Watch Gin, a finely balanced London Dry Style Gin with a name that carries a meaningful two-part story.
The first part of its name draws inspiration from the Navy Watch System known as the 'Dog's Watch,' in operation from 1600 to 2000. It's a nod to a tradition steeped in history.
The second part of its name holds a profound significance, symbolising the unwavering support and companionship that dogs provide. If you're fortunate, you'll have a loyal four-legged friend watching over you, offering comfort and solace.
But there's more to this gin than a name. It's a spirit with a purpose.
If you're not familiar with MindDog Australia, they play a vital role in helping individuals dealing with mental health challenges. MindDog Australia assists in procuring, training, and certifying psychiatric assistance dogs. These remarkable dogs become lifelines for people struggling with mental health disorders, often held back by anxiety and fear.
With the aid of a mindDog, these individuals regain their independence. They can confidently travel on public transport, access public places, and engage in social activities that were once out of reach.
By choosing Dog's Watch Gin, you're not just acquiring a bottle of exceptional gin; you're making a difference. £5 from each sale goes directly to MindDog, supporting not only veterans but also those in our community who are in need.
So, raise a glass of Dog's Watch Gin and toast to a spirit that stands for tradition, companionship, and making a positive impact in the lives of others. Cheers to a brighter future and a community that cares.
This Gin begins with a gentle introduction of Juniper, which gradually intensifies alongside delicate citrus and floral notes. As you delve deeper into its flavor profile, you'll uncover subtle hints of spice and earthiness, subtly intertwining with the citrus and a touch of sweetness. The finish is beautifully balanced, with the flavors harmoniously fading away in perfect synchrony.
Sadie - The Hold Fast Distillery Dog

Sadie is a trained Assistance Dog trained through the MindDog program. She is a five year Border Collie and loves adventures. If the car door is open, she will jump inside and prepare for her next trip.
She often goes away to events, festivals and markets. You may be lucky to see her at one of these or at the distillery.
Meet Sadie, the beloved canine companion of Hold Fast Distillery
Sadie is no ordinary dog; she's a remarkable Assistance Dog trained through the MindDog program. This five-year-old Border Collie is a bundle of energy and enthusiasm, always eager for new adventures. If you leave the car door open, you can bet that Sadie will eagerly hop inside, ready for her next exciting journey.
Sadie's love for exploration knows no bounds. She frequently accompanies the Hold Fast Distillery team to various events, festivals, and markets. If you're lucky, you might spot her at one of these events or even at the distillery itself, spreading joy and wagging her tail in greeting.
With her boundless spirit and dedication, Sadie not only brings joy to those she meets but also serves as a symbol of the Hold Fast Distillery's commitment to supporting the MindDog program and making a positive impact on the community.
Made with: Juniper Berries, Coriander Seeds, Cardamon pods, Cardamon seeds, Angelica Root, Orris Root and Lemon Peel. 
 500ml Bottle