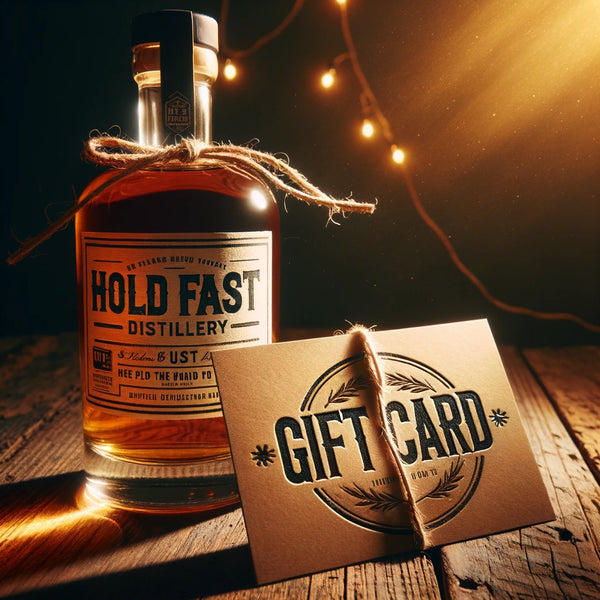 Indulge your loved ones in a world of exquisite flavours and unforgettable experiences with the Hold Fast Distillery Gift Card. Our exclusive gift card is the key to unlocking a treasure trove of exceptional spirits and immersive gin school sessions that will tantalise the senses and create lasting memories.
Whisky Wonder: Give the gift of rich, complex flavors with our premium whiskies. Whether they're a connoisseur or a newcomer to the world of whisky, our selection promises a journey through exceptional craftsmanship and heritage.
Gin Delight: For those who appreciate the art of distillation, our gin collection is a botanical paradise. From classic juniper-led gins to contemporary creations bursting with flavor, there's something to please every palate.
Gin School Adventure: Ignite their passion for gin with an unforgettable Gin School experience. They'll learn the secrets of botanical blending, distillation, and craft their own bespoke gin under the expert guidance of our master distillers.
Vodka Excellence: Crafted with precision and purity, our vodka is a testament to our commitment to quality. Smooth, clean, and versatile, it's perfect for both sipping and mixing cocktails.
With the Hold Fast Distillery Gift Card, you're not just giving a gift; you're offering a journey through the artistry of distillation. Whether it's a birthday, anniversary, or any special occasion, this card lets your loved ones explore the world of spirits and gin-making in a way that suits their tastes.
Get ready to spread joy, laughter, and the finest spirits. Purchase the Hold Fast Distillery Gift Card today, and let the adventure begin!